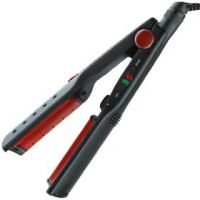 pretty good

this is my first ceramic straightener & i have had it for a few years now. i don't really use the wet/dry setting & no one else should either. NEVER pls put heat on wet hair, ur hair will be fried crazy. but i have frizzy, poofy wavy hair & this does a nice job making it straight. not too much frizziness but it doesn't give any shine. & i don't lie the cord, it gets twisted & stays twisted

undefined

THIS WET/DRY STRAIGHTNER WORKS SO GREAT, IT HAS MANY DIFFERENT HEAT SETTINGS, AND IT WONT DRY OUT YOUR HAIR, OR MAKE IT BRITTLE, WORTH THE MONEY

Thick hair? This works great

Well, I have extremely thick hair. Just to blow dry takes close to an hour. What I really like about this is it can be used on Wet or Dry hair and it doesn't dry your hair out either way. I also like the curved edges to flip your hair.