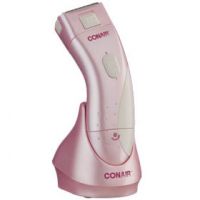 Conair Satiny Smooth Ladies Wet/Dry Rechargeable Shaver
As low as
Least of the evils...

This is not the best shaver, but it's better than some. I haven't been able to shave my underarms with normal razor because it gets little bumps and my underarm is shaped funny so it is easy to cut. This works really fast and easy and it doesn't have to be done in the shower. If you press too hard then it really hurts...you just have to learn what the best pressure is for use. I would not use it o...read moren your legs though- it hurts. Works fine on armpits if you don't mind a little bit of stuble...like really tiny.

Terrible Shaver

This shaver is a waste of money. After 2 uses, it would not recharge fully. The first time I used the shaver it missed alot of hairs and what it did cut left stubble and irritation. I contacted Conair and that was of no use. Keep your money and invest in something else.

Avoid this Shaver!

I used the shaver about 6 times and the foil cutter cracked open! The foil cutter is made so thin it bends when you apply slight pressure with your fingers. I then tried buying the cutter and was told that it is not available in the regular retail stores. I contacted the main Conair company in the US and was told I could buy it from them for around $6.00. They did not have the item in stock and I...read more had to wait for two weeks before it shipped! I have such a disgust for Conair products - I now avoid anything with the name!
Back
to top