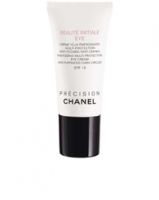 Review subject

Beauté Initiale Eye Cream is not sold in the US without sunscreen. It has an SPF of 15 and makes a fabulous protective barrier for the delicate eye area, fighting free radicals. If you are older you can use this over another eye treatment.

not doing much

i'm using the version without SPF, and other than the fact that it stings I haven't noticed any results. maybe with time..

love it!

well i love this eye cream n do recommend it. if you have puffiness you can see a difference only minutes from applying it. i love it when i have long nights and then wake up with puffy eyes and i just put it on and there puffiness is gone. I can remember this one time i cried all night long and didn't sleep, and this time i thought i was going to go to school with red and puffy eyes well guess wh...read moreat withing minutes the puffiness was gone. i love the texture and smell it soaks in right away so you don't have to wait long to apply makeup. also a little goes a long way. it is helping my dark circles, but i can't say with my under eye wrinkles yet because it's too soon to tell, but i do notice a big difference since i started using it. all i can say is that i love it and i would recommend it!
Back
to top