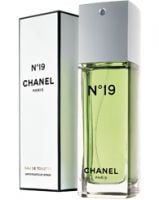 Light. Sporty. Outdoorsy.

I wore this in college. It is not a deep date night fragrance but more a safe scent that you can wear during the day to class or to work and not overwhelm those around you. It has both floral and green notes that are perfect for a spring day in California. It is Chanel though, so the price is not cheap, but neither is the fragrance.

Adult perfume )

I have this perfume from 22. One cold January day I was informed that I will have a meeting with a client the following day. I remembered about my new perfume and decided that it will grow in me the courage, maturity and self-confidence. The meeting was awful, I looked like a real blonde before sharks of business, and then I was told that it is necessary to correct the situation within two weeks o...read morer I will be fired, and I corrected it)). That's how I spent my acquaintance with Chanel number 19. Yeah, I did not become confident immediately, first I had to go through a tough test, to become more cautious and rely only on myself. And at first it was Chanel number 19, which in spite of the negative experiences I fell out of love. One evidence of the fact that this fragrance for adult and self-confident woman is the fact that it was created for the 87 year old Coco and is a mirror image of her character). Chanel number 19 gives you the confidence and femininity. I wear this fragrance to business meetings, as well as in those cases, when I want to create the impression of a serious and elegant woman. It is definitely not a light scent is more for the autumn-winter period. And I think it's very luxurious, spiritual fragrance, which can bundle up like a soft blanket in the cool summer evening on the terrace of cozy cafe .... Henri Robert created this unique fragrance in 1970, the birthday of Coco, August 19. Top notes - Galbanum, Hyacinth, neroli and bergamot, middle notes are iris, orris root, jasmine, ylang-ylang, lily of the valley, rose and narcissus; base notes are leather, sandalwood, musk, oak moss, vetiver and white cedar. I like the flavor of their sharp green notes and powdery iris. Iris flowers do not smell, but the roots of three years after planting are of great value. To obtain 1 kg of the absolute need 13 tons of raw materials.

fascinating

Green, mossy, yet also powdery and mysterious.
Back
to top