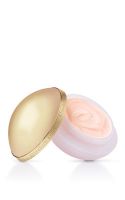 Elizabeth Arden Ceramide Time Complex Moisture Cream
Very moisturizing...if you can get passed the smell

I love a really emollient cream...I slather it on at night and let my skin drink it right up. This is indeed a very moisturizing cream but...THE SMELL! Yuck. No scent at all is preferable to this. I feel bad saying this but the second I put this on I flashed to visiting the convelescent home. It just has that "old lady" scent. Now I loved, loved, loved my great grandma to pieces, an...read mored she always smelled of rose water...but her friends always smelled like this. Maybe its just an aversion I have but it isn't pleasant. Its not fresh, or refreshing or even pleasantly calming. It just stinks. I can't endorse a great working lotion that I have to wash off as soon as I put it on.

ELIZABETH ARDEN CERAMIDE TIME COMPLEX MOISTURE CREAM

The ads state that this cream will increase your moisture level by 450% within one hour. This is not hype, but true! I purchased this cream several years ago and applied it at night. When washing my face the next morning, I was amazed! My face felt like satin. My makeup went on more smoothly and looked better than before! This cream works overnight to make your face feel as soft as a baby's....read more I use this only at night because I have oily skin even in winter. You can feel the moisture in this cream when you're applying it, but it sinks into your skin rapidly. Your makeup will go on more smoothly and look better after using this cream. I PREFER THE JAR, but you can purchase this in a tube. Just like the consistency of the jar and think it performs better. I always purchase this on eBay, because it's a fraction of the retail price.
Back
to top