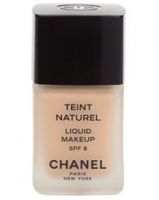 Love the coverage, not the color

I love the coverage this product offers. My skin looks flawless...just not the right color. I have went through at least three shades and still cannot find the right color to match my skin. Maybe you will have better luck. Worth the shot. Just DO NOT purchase unless you try on in NATURAL light. Looks great in the store but horrible in the car. I have moved on...

Great foundation for retin-a users

I use retin-a and this is the only foundation I haave found that covers the redness and still gives my skin a natural look. The Teint Naturel also does not emphasize any peeling skin spots I may have. It can be sheer or heavy coverage depending on whether I apply it with my fingers (heavy) or with a damp sponge (light). The color I use matches my skin so flawlessly that I can also use it just to c...read moreover my hyperpigmentation spots without putting foundation all over for a super natural look, and no 'spots' where I hid the flaws!

Best I've found yet

I have been using Chanel foundation for years. I have very sensitive skin and this brand seems to be the only one that doesn't irritate my skin. It goes on smooth and doesn't ever feel heavy. I always receive compliments on my skin when I wear it.