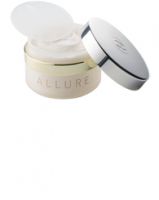 Chanel Allure Body Creme
As low as
Chanel

Layer this with the perfume & it lasts all day. Love the smell.

buy it

very sexy buy it and you will prey 4 me

Chanel Allure Body Creme

A softly scented, non-greasy moisturing cream leaves my skin soft and alluring. I had a double mastectomy at Johns Hopkins Hospital in l999 and using Chanel Allure Body Creme softens my skin and makes me feal special. This is a product well worth the cost.
Back
to top