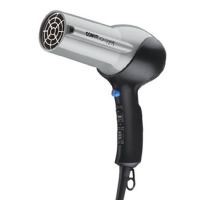 decent

It's a decent hairdryer for the price. Nothing special. I've had mine for several years now. It does have hot-warm, high-low settings and cool air button, which is nice. But I wouldn't say it does a great job with drying hair. I have long, fairly thick hair, and it takes forever to get it fully dry. Also, it's on the heavy side, so if you have long and thick hair, your arm is going to be pretty ti...read morered by the time you're done styling. But I can see how someone with thinner hair might like it. I will try something else for sure when this one dies.

Does a good job

I've had this dryer for years and it's always done a good job drying my hair. It dries it pretty fast. One downside there is no cool shot button and you can't control the temperature, only the speed.

3 Years Later....

I've had what feels like hundreds of blow dryers burn out. So many, in fact that i've come to expect it. This dryer broke the stereotype. It's lasted 3 years...maybe 4? I've had it so long I can't even remember when I bought it! It drys my hair more quickly than others and the heat isn't so intense that it badly damages my hair. Overall, a great buy!
Back
to top