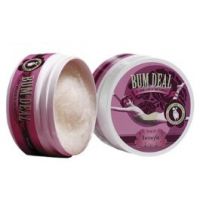 Benefit bum deal
As low as
Too Expensive

Just mediocre, not enough product, and not a great exfoliator. There are better ones on the market like Tree Hut in Brazil Nut, $4.99 at ULTA in a big jar. It also has a companion Shea Butter in Brazil Nut. In fact, I used them both today. Good for hands and feet, too. Sorry I got off the subject, but I am getting sick of Benefit's small packaging and cutsey theme. I want products that work ...read moreand are reasonably priced. I am definitely getting turned off to Benefit products. I read my old reviews, and boy, have I changed. I am not a huge Benefit fan anymore. (except for certain things.) I used to jump when new products arrived. I have become very picky with the Benefit line because they make too much money off small sizes of products. Especially their kits, that are basically sample sizes. They have cute names to suck us in. Sorry for the diatribe, but I have ended returning a lot of Benefit products, including this. I'm tired of spending too much money on a name.

It's Actually A Good Deal

Great exfoliator, cute packaging. I can't say it "slenderized" me, but it definitely made my skin smoother. It lasted a while too.
Back
to top