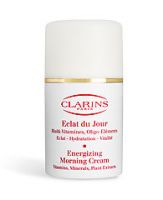 Editor's Rating & Review
This luxe, hydrating formula turns skin super-soft, but its main reason for being is to pump life into dull skin via reflective pigments. In terms of long-term, deep-down wrinkle-smoothing, there's not a whole lot going on, plus there's no SPF -- odd for a day cream. The good news is, one drop covers your entire face, so the teeny tub can last as long as four months. The bad news? The space-hogging pump means you pay for lots of package and little product.
Reviewed by Kristen on 09/28/2007

How we review products
love it

very hydrating! and very emollient... i love the way it feels and it really moisturizes. i just wish it was anti-aging!

Love it

Been using it for over 10 years, and all thru my 30s. My skins has been supple and energizing. True that it does not have SPF, but SPF products tend to have a sunscreen smell that i don't like. It is easy enough to apply a sunscreen on top. Clarins Energizing Morning cream has been like another skin over my skin. I'm in my 40s and people think I'm 28. Owe it to this cream!

Not Moisturizing enough for Mature Skin

I loved the texture, but my skin was parched again by lunchtime. Also, Clarins tends to put a skimpy amount of product in their pump dispensers...their jars of cream are much better value.
Back
to top