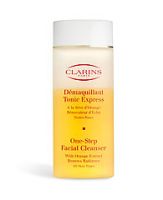 Was not impressed

Sorry this product wasn't for me. I didn't like the feel on my skin.

Interesting!

I find Clarins one step facial cleanser, to be a side tool and not for everyday use. Perfect for those "bored to death days to wash with care or use moisturiser". It does leave a residue especially if you don't shake it well before applying. I love the orangey smell and I find it effective in removing makeup, however not with one sweep. Would buy it again, as a side regiment but would chose anoth...read moreer product for my daily routine. Can be excellent for traveling ( when you need to pack less) it is gentle enough and it doesn't cause any breaackouts. Quite an interesting product

I didn't feel clean when I was done

I received a sample size of this when I made my very first Clarins purchase. I can't say if it actually got my skin clean, but I can say that it definately didn't feel clean after I used it. My skin had so much residue left, that I actually washed it again using a cleanser from a different company. I can't image why anyone would like this product.
Back
to top