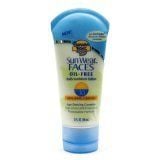 Editor's Rating & Review
Warning: Those with product sensitivities should avoid. (I'm only mildly sensitive, and it really stung -- and this is supposedly hypoallergenic.) But normal skin would fare better with this thick lotion, which is "very water resistant" and completely protects you from UVA and UVB rays. On first squeeze, you'll think it won't blend into skin easily, but it goes on surprisingly sheer. Also, it won't clog pores -- but do expect a shiny finish, so keep blot powder close.
Reviewed by Kristen on 10/05/2007

How we review products
doesn't sting eyes

and lasts all day

great!

i got this free with the regular sunblock. i just used it yesterday while mowing my yard and it worked great. i have very sensitive skin and had no issues with this sunblock as some users have reported. it didn't run at all even with all of the sweat of yardwork. i will definately be buying the full size.

Banana Boat

Good for the face but not much else.
Back
to top