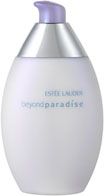 Softly Scented, Moisturizes Well

Layering fragrances is the best way to get the best wear from them, as long as powders, lotions, and soaps aren't too strong. This is a lighter version of the fragrance, just as feminine and alluring, never overwhelming. The moisture lasts long, as does the aroma.

Review subject

My very special friend gave me the lotion and the perfume all at the same time and I most sincerely love it but sadly I am out of it and I truly need it. Can I please have another one?. It is truly an awesome lotion. He loves it too but he can not find it. Can I please have it again?....thanks....Leua

quiet scent,supple skin

Beyond Paradise has been my favorite fragrance. I have been dubious about layering fragrance products not wanting to knock others out with what scent I enjoy but this lotion leaves all skin soft beyond belief until my next shower. The scent is not overpowering but subtle and pleasant with a dash of the perfume that I run through as my roommate at William and Mary taught me from her German descent!
Back
to top