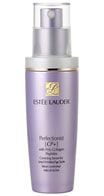 "Perfectionist" is the Perfect Name for This!

How do you know when a moisturizer truly works immediately at improving your skin's appearance? When you apply it for the very first time and your husband says, "Wow, are you glowing! Are you wearing new makeup or something?" No, I was wearing Estee Lauder's "Perfectionist [CP+] with Poly-Collagen Peptides Correcting Serum." That's how quickly my face, already in pretty good shape, reacted to...read more the incredible formula. The very silky, lightweight serum penetrated immediately, smoothing my skin, disguising tiny wrinkles, and leaving behind a baby-soft, luminous, yet powder-like finish. It was like magic. What does it? "Perfectionist" is replete with collagen-producing ingredients, so it works in the present and will continue to work in the future to repair skin damage and renew cells. Should I tell you this? Oh, well, you're paying for it anyway: The hydrolyzed fish included in the unique formula is one type of topical protein which mends tissue and enables skin to produce more of its own collagen. The formula is chock-full of anti-oxidants and sun protection, a must-have in any moisturizer no matter the season (keep in mind that winter sun is just as damaging as the sun you experience in the summer months). Silicone in "Perfectionist" works as a type of "shapewear" to tighten and "fill in" creases and hide lines instantaneously, while mineral pigments cast a flattering sheen. Root, fruit, whey, corn, and flower extracts feed skin. Caffeine (yes, think Starbucks here) is a currently popular ingredient which has been shown to dehydrate and constrict blood vessels, thereby reducing annoying puffiness and even facial flushing (temporarily). In the long run, it works as an anti-oxidant and enhances the performance of other ingredients. Some studies have suggested that caffeine acts over time to reduce UV damage and may perhaps be more potent than much-touted green tea. I extensively researched the ingredients in this because I am now addicted to it. I caught my husband applying it to some frown lines, with great success. He now shares my container. Even better, I buy him Lauder's concentrated "Targeted Deep Wrinkle Filler." It behaves like spackle to camouflage enlarged pores as well as furrows and grooves. We are believers! Don't even come near our "Perfectionist" products--we will never give them up!

Perfectionist

I loved this product it made my facial skin feel beautifully soft and m wrinkles seemed way less noticeable, everyone was telling me I had such beautiful, and glowing skin!! The only drawback was it's pretty exspensive and you can go though a bottle in a week or two, but if you have the extra money it's definately worth every cent! One word of caution though I don't know if it's the zinc or sunsc...read morereen product ingrediant in it but under black lights your face will glow like a skeleton lol so don't go nightclubbing with it on...

A WINNER!

One of the best anti aging products I have ever used. It is important to know that this is serum and must be used with moisturizer for the best effect. I do not worry about aging anymore, as long as I know this product is out there. I am very happy to recommend it ( from somebody who has tried A LOT of products) this is a winner!
Back
to top