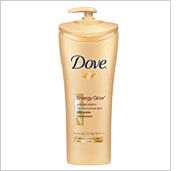 The Best Self Tanning Lotion

Why is this product so great ? Well first off it combines Dove's classic moisturizing lotion with the beautiful light self tanners. This self tanner will not make you orange either. Its more of a light caramel, that will make your skin look amazingly healthy. The best thing about this self tanner vs others is that this one smells GREAT! We all know how horrible self tanners smell, but this one has a sweet clean smell. I use it every single day, Year Round. This product delivers !

Wonderful

This is the best lotion with self tanners that I have used. It smells great, and keeps me moisturized all day. I love the fact that it goes on uniformly and I never look orange.

works great!

This lotion is great moisturizer and also adds a nice slow self tan. Smells much better than some of the similar products out there. Would definately reccomend!
Back
to top