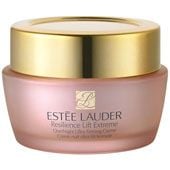 Another bad product

My trip to the Estee Lauder counter was far from fruitful. This product as well as the Advanced Repair eye cream and serum did not work well with my skin. I don't have sensitive skin, but wow, did this stuff make me want to run from the counter. Even though this didn't burn like the other products, this left me with not much more than an oil slick. My skin is normal to dry, but this lotion just...read more sat on the surface. For the same price, try the Yougurt or 24 hour Wild Rose lotions by Korres. They are even all natural.

Love This

This is a great product that feels so wonderful on my skin and hope it is helping with fine lines and wrinkles. I am getting to that age to where this is concerning me very much. This product has a slight odor which is nice and it makes your skin so soft and smooth. I have been using this for some time now,

Super dooper even on younger skin

I order so much online that I get lots of free samples, just another thing to recommend online ordering versus visiting the Estee Lauder lady. So I've had about 3 samples of this overnight firming lifting cream and though I really don't need it, but why not, it said non-acnegenic so it wouldn't clog my pores. So I tried it an immediately the next day I saw better looking skin, my one blemish was...read more smaller and less red, and I was impressed. Once again it is an aromatherapy experience--a soothing, hard to describe unisex scent, and a thick cream, but not oily and it did not clog my pores. Amazing! How can a thick cream not clog pores? Leave it to EL. This formula is now outdated, as EL has updated the line (check out the review on Cosmetoscope), but it contains many actives that do everything from redensify skin to help it to communicate better, to eliminate oxidative stress. The new lineup promises to be even better with a lineup of new technologies that work with DNA. It all sounds like nonsense but do some research online, and you'll see it's not. Even better, try the stuff, and you'll see how it works.
Back
to top