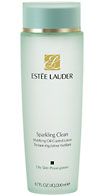 Good

L'ancome has a product similar to this and I prefer this one. You can see the the dirt that it picks up if the cleanser doesn't get everything and I love that its not super strong like other toners that contain alcohol. I have seen improvments in my skin since I started using this. It doesn't keep my skin mattified for the entire day but I blame that on my extremely oily skin. I wasn't half way t...read morehrough it and I purchased another just so I don't run out. I think I found something that I'm going to stick with.

Great

I love this stuff. It's got powders suspended in it so it gives you long lasting matte. It also has herbal extracts of lotus and lemongrass and it gives you a fabulous aromatherapy experience. It also makes my skin feel firmer and look brighter. I can't recommend it highly enough. I much prefer it to proctive.

Love This Toner

I had to write a review on this product because I have used this toner before. It isn't harsh on your skin and it has this cool powder inside the bottle that absorbs the oil on your skin. Would highly recommend if you have oily skin and or combination skin. You pretty much would spend around $20 for this toner and it's well worth it.
Back
to top