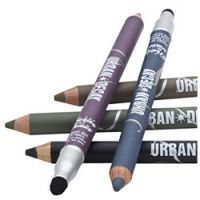 Cannot Even Apply This!

The formula is so "hard" it doesn't even apply! It feels like a rock!

Didn't work for me

I am always on the prowl for products that will get me the fastest, easiest, sexiest smoky eye. I wasn't too impressed with this. I have tried many a smudger-thing (the little tool on the other side of the pencil) and for me they just irritate my eyelid. It doesn't help that the texture of this eyeliner was a little dry for my taste. It really is a good idea, but it didn't work for me. Sorry!

Great...once you learn how to use it!!

Ok, so I bought three colors online because I thought they would be so amazing based on the description. When I got them, I found it was hard to get any color to show up on my eye, and it hurt like crazy...felt hard as a rock, then I got the idea to use it wet, and oh boy....that worked so great, I felt dumb for trying without it ever!! I used a wettened q-tip to get the end wet and made sure to ...read morere-wet it as it dried up. I love that the other end has a smudge sponge thing which is needed for the smoke out effect. You can just have it as a normal softer eyeliner, but the sponge gives it a better look for me I think. I do have a problem with the stuff going into my eyes too though, so you have to be careful because that is uncomfortable as it sticks to my contacts..haha. Overall I'd give it an 8 because its great when used wet, horrible dry...so yes, skip the pain and wet this puppie before tring it!
Back
to top