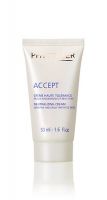 Phytomer Accept Neutralizing Cream
As low as
This Really Removes Redness

After a horrible facial that left my face red and blotchy I searched for a calming product and came across this cream and its numerous reviews of taking the red out of the skin. I've only used it once and within a few hours it significantly reduced the red blotchy complexion I've had for about two weeks! I am keeping this on hand for blotchy skin emergencies. I don't find it to be moisturizing for my dry sensitive skin so I don't use this as a moisturizer.

Provided by my spa

I used a sample of this prior to my wedding three years ago. My spa gave it to me so I could really boost my skin care prior to the wedding. I didn't notice a difference and didn't purchase the product. I like the smell of the Phytomer products, but have not seen results.

Great for rosacea

I had a facial at a local spa and this product was used on my face. It took the red out of my cheeks.
Back
to top