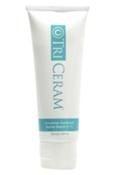 Not enough for my dry skin

I have red, dry skin on my forehead and tried this product for about a month. I saw no improvement in my redness and only slight improvement with my dryness. The quest continues.

Triceram is the best cream for eczema

I discovered triceram cream after developing nummular eczema on my elbows, knees and buttocks. This type of eczema is unbearably itchy and painful and will only respond to the strongest prescription steroid creams. I was searching for a cream that would help repair my skin barrier and found triceram which is, as I understand, clinically proven to do just that. Well, I began applying morning and...read more night along with the steroid cream. It takes about three weeks to see the best results and after that, continued use kept my skin clearer and healthier. It doesn't replace the steroid cream during flares, but it does cause my skin to flare MUCH less often and when it does, my skin responds MUCH more quickly to the steroid cream. This means I don't have to use nearly as much steroid cream which makes me happy! I love this stuff and will always use it as a proactive treatment for those eczema-prone areas.

From my friend's perspective

I do not suffer from eczema but she does. She does not have serious problems and the change it made in her was not dramatic enough where she felt someone seriously suffering would be able to replace their prescription medication - but for less serious sufferers - this is great stuff and provided her immediate relief. So she wants to give this a 10 if you are not a serious sufferer!!
Back
to top