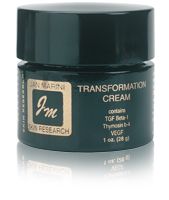 Overpriced

I had a facial using all Jan Marini products and loved how my skin felt after. They talked me into buying the transformation cream, which I was really excited about using. $60 later I did not feel like this was worth the price. The product is nice and smells great but I didn't see an improvement over my dermalogica products. I feel like there are better products out there for the cost.

Great light moisturizer

This is a great product. The product is not greasy. It is just creamy. Ladies with oilier skin can use this product. It goes on smoothly, and helps hydrate my skin. It does not break me out. I highly recommend this moisturizer, plus I like the smell.

Great Product!!!!

I really liked Jan Marini Skin Research's Transformation Cream. And, I especially like how well it works with my makeup. Also, I got mine at theskinspecialist, and they were offering a really great deal and said they really wanted to get this product moving. So, definitely contact them first and see what they can do for you. Their staff also gave me a lot skin care tips that I think helped m...read moree appreciate this product even more. Anyway, I definitely don't think you can go wrong with Jan Marini's Transformation Cream and was happy with the results I saw!
Back
to top