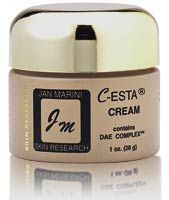 Jan Marini Skin Research C-ESTA Cream
As low as
Great Product

I have used Jan Marini off and on for the last 4 years. Every time I use Jan Marini, my skin clears up. And, when I do break out, my acne doesn't stay for long. The Jan Marini system uses 5 products -- the bioglycolic cleanser, C-Esta, Bioclear, Moisturizer and Sunscreen. When I first started using this product, it really made my skin dry and flaky because the concentration seemed high. That ...read morecleared up in about 3 weeks, and my skin was moister and more hydrated underneath. This cream can tingle a bit when it goes on initially, but once your skin gets used to it, that tingling goes away. Jan's webinars state that this form of Vitamin C has been shown in tests to be stable for 2 years. So, when you buy these products, look at the Expiration date underneath.

Overrated in my opinion

My dermatologist pushes the heck out of this cream. (of course, he sells it at his office). I was less than impressed with it (I was using it to try to 'tone down' redness). It made my face tingle, and not in a good way. I much prefer "Estee Lauder Verite Calming Fluid" for this purpose.
Back
to top