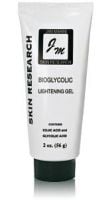 Jan Marini Skin Research Bioglycolic Lightening Gel
As low as
Did not lighten a single spot-- and it stung!

I used this lightening gel for two months as directed. The first week my skin was flaky, but that did go away. It stung going on and never absorbed very well-- even when I used barely any product. It very slightly lightened my brown spots, but I may have imagined that!

It Really Does Work

I really love this gel! It helped lighten all the little splotches of brown spots along the sides of my face without causing any irritation, redness or dryness. Just use it on a daily basis and the spots do fade away.