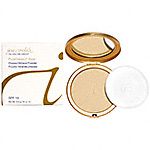 Is Expensive Yet Good

This is expensive, yet it is a good finishing powder. As, it doens't make me look pasty like alot of other face powders can do.

Best!

I only gave it 9 stars since I still have to touch up, but it is by far better than Bare Minerals or anything else I've used!

Jane Iredale

Jane Iredale is one of the absolute best products out there! It is number preferred by plastic surgeons for after surgeries, not just for facelifts and beauty surgeries, but for needed surgeries due to accidents etc. Any Jane Iredale makeup that is not in liquid form is antimicrobial! It CANNOT harbot bacteria and will last forever! This makes the price well worth it. You know when you buy it yo...read moreu will not have to throw it out in a few months if you didn't use it all! A little goes so very far, you barely need any to get the same coverage as those lesser brands that you would use 2 to 3 times as much for the same amount of coverage! It is great for your skin and causes no irritations. There really is not one bad thing that I can say about any of the Jane Iredale makeup as a freelance makeup artist I use it constantly!