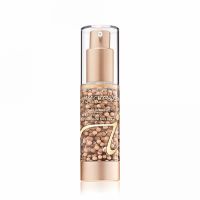 Not worth the $$ shelled out!

I've heard so much hype about "mineral" makeup so I decided to try the "skin care make up". Although it covers pretty well, it has a thick, chalky texture that makes me dry, flaky, sensitive, aging skin look worse! (Yes, I always moisturize first) Even when I applied the tiniest amount possible, it does not spread smoothly or evenly. I paid about $50 for this. Maybe the sha...read morede was a little too light, and that could have made the dryness more visible. Still, I don't plan to get it again. In order to use it up, I use it on my arms and legs. Expensive is not always better. My $10 foundations from Revlon are far superior to this. Other brands of mineral makeup may be better, but I am not too eager to try another at this point..

inconsistant

Sometimes i love the way it looks and then some days it does not blend well. the product did not cause any breakouts which is good.

Awful on my oily skin!!

This product is definatly not for oily skin. Not only does cover NOTHING but it melts right off. I could see how this would be good for older skin that is dry. I ended up giving the bottle to my mom.