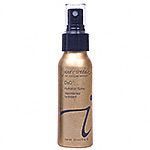 Smells like expensive

I like the idea of a spray that will help set mineral makeup. And it does a great job doing that. I wonder, though, without all the hooplah of special ingredients, did I pay 17+ dollars for a spray bottle of water?

Smooths makeup

This is a product that makes your makeup look like it does after an hour or so of application. It brightens and smells great. Love to spray it to smooth any makeup mistakes.

Jane Iredale D20 Hydration Spritz

I love this product! It imparts a dewy finish to my mineral makeup foundation and keeps my make-up in place all day. It's a great mid-day hydrator, especially in the office, which is always too hot or too cold. It's a little expensive, but it's my treat, and the small size makes it convenient to travel with or keep in your purse.
Back
to top