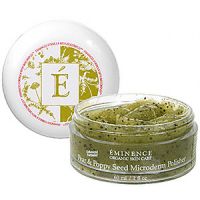 Great when used in the SPA

I've only had the pleasure of experiencing this in my regular spa facials and it just hit me yesterday when my esthetician used this on me. Perhaps it was her technique which stood out from the past times I used it. It felt wonderful and my skin looked literally glowing and rose pink cheeks after my facial. Of course this is in combination with other eminence products, but I never look as glowi...read moreng as I did yesterday. I truly believe it was because of this products and I was amazed. I looked like a cherub, or more so than I usually do. I am really thinking about adding this to my regimen, but I have so many products I just bought I'll have to wait. I do think for the price it's worth it and it smells absolutely Heavenly!

This scrub is amazing

This product is amazing. I suffer from cystic/pustule acne and am in my mid 30's. Scrubs tend to make me breakout in tiny little white heads so I was a bit apprehensive to use this scrub, but the other eminence product I have bought have been wonderful and non irritating so I decided to give this one a try. The scrub smells great, and is a very powerful scrub, you only have to apply light pressure...read more to get great results. This scrub did not make me break out or irritate my sensitive skin at all. In fact my skin looks fabulous, all of my acne is gone and my red scars have lightened up ALOT. my face has not been this smooth, tightened or glowing in YEARS. I only used about he size of a lima bean, so a little will go a long way, making this a very affordable product in the long run. I am also using the citrus exfoliating wash, 8 greens moisturizer, 8 greens youth serum, hungarian herbal mud mask, I have never been this pleased with a product EVER. try it. you wont be dissapointed.

Real good treat for your skin

I am in love with this product, i just love it. I have super delicate skin that breaks out at a drop of a hat so i tend to stay clear of things that scrub but i have found an absolute winner in this and it leaves skin beautifully polished and glowing, not clean looking but glowing and its organic.
Back
to top