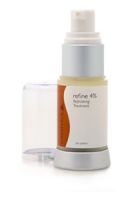 Great Product For Sensitive Acne Prone Adult Skin

I've been using this product for about a month now, and I love the improvement to my skin. As an adult, I've experienced stubborn acne, accompanied with red sensitive skin. I've tried the prescription pill avenue that has helped somewhat, but with the addition of this product line, my skin is doing much better. I'm so happy I found CosMedix! I love the Refine serum and use it everyday, along w...read moreith the Purity and Blemish Control serum. Lovely products, my skin immediately drinks them in. A definite must have for everyday.

Fantastic Product

This is my favorite product in this line besides the X-age. I noticed a difference within just a few days of using. It doesn't take much so it will last a good while. Start off slowly as it is powerful and you don't want to burn your face. I like this product because you can mix several of their creams together and put on all at once.

So Thankful

So very thankful that I can use this at home and not have to waste my time sitting in a chair at the spa. Don't get me wrong, I do love me time, I just don't HAVE the time. Refine gives the skin that looks like I've spent hours at the spa! Love it!
Back
to top