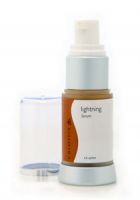 CosMedix Lightning Fading Serum
As low as
Effective and gentle

I primarily use this product for my acne and acne scars even though it is marketed as a skin lightner. I found this product while pregnant and was breaking out a lot. Many of the ingredients in the serum are actually also acne fighters but are not considered harmful to use during pregnancy. It worked better than expected, fading acne scars quickly and helped reduce the number of break outs. Si...read morence the amount of product in the bottle is small, I went through the Lightning serum pretty quickly and tried a different brand with similar active ingredients. However this other brand was much harsher on my skin and more drying which made me understand the idea behind Cosmedix's chirally correct skin care products- effective ingredients with minimal irritation. Now that I am breaking out again with deeply embedded pimples, I repurchased the Lightning serum and it has helped clear up my skin again and fade the scars as well. I can see results within a week of using the serum and have tried so many other less effective products that the price is worth it. The only (slight) downside to the serum is that it feels tacky on the face but if you use it only at night then it should be no problem.

Lightning Serum

A waste of money and time. I do not recommend this product at all. Using it now for 8 months and it has not faded my pigmentation at all. Bitterly disappointed as the reviews and blog truly made it sound like the product to have. I will keep searching for the magic product.

Excellent for removing spots and exfoliating skin

This helped to remove dark hyperpigmentation on my face. It is quite strong at first, and during the first week it burned for about 2 minutes after application. My skin peeled a bit which was good because underneath the dead skin was new clear skin.I highly recommend it.