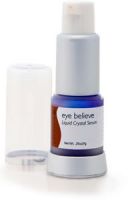 CosMedix Eye Believe Liquid Crystal Serum
As low as
Recommended by a girlfriend & an aesthetician

I'm so glad I listened to them. This has been so fun to use right from the start. I love products that deliver, and this one does. The instructions say to use this at night. It only takes a tiny bit. If you put on too much, it will have a sticky consistency. The serum is an amazing aqua blue irridescent color when it comes out of the bottle. I'm no longer irritated by the dry lines I was noticing around my eyes. Who wants Botox when you can use a fun serum!

not a believer!

I used this moring and evening( as instructed) never saw a slightest change! I was really hoping this product would help with bags and circles. It did nothing at all! This was expensive and did nothing. Save your money and purchase something that works! This was a waste of money.

OK, it may be pricy.. but

I know this is an expensive eye serum. However, I love it and it will last forever. I can tell a difference in 2 - 3 applications. My eye are brighter and the skin is more tone with less pigmentation. You only need to use a dab. I use it at night, however you can use under makeup during the day.
Back
to top