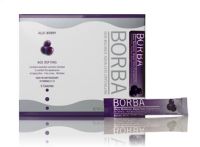 Borba Age Defying Aqua-less Crystalline
As low as
I think it's great...

Although I take great care of my skin already, this product makes me FEEL like it makes me glow....plus, the overload of vitamins can't hurt!!

The skin firming crystalline packets

I love this product, it makes me drink more water than I normally would. It is too expensive though.

Nasty

When I poured a packet of this into a bottle of water, it made the water turn gray. It looked disgusting. I drank it anyway but it tasted just as bad: very sugary, artificial and with a bitter after taste. Take a multi vitamin and antioxidant and don't suffer though the disgusting taste or appearance of this.
Back
to top