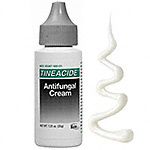 Blaine Labs Tineacide Antifungal Cream
As low as
Works wonderfully!

I use Tineacide every day and I got great results. One of my toenails was looking gross because of fungus and none of my prescriptions were really doing much to improve it. Tineacide was the first product I got that really worked for me. My toe looks so much better and now I only have to use it every once in a while to keep the fungus from coming back.

ONLY PRODUCT THAT WORKS!!!!!

I've try everything out there and this is the only thing that actually works. I've tried mycocide, fungi cure, fungi nail, and nothing works; until I used tineacide. I recommand it to everyone who has ugly painful nail fungus.
Back
to top