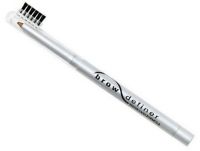 Wish for darker colors....

This only comes in 2 colors: brown beige and blonde beige. I got this in brown beige. Usually I like my eyebrows a little darker because I do more smoky eye looks and would like my eyebrows darker to match it. This pencil is only good for days I want to go lighter and more natural on my makeup. It has a waxy consistency but not enough to hold my brows in place. It fades throughout the day after a ...read morecouple of hours. I don't like how it applies kind of patchy on the brows. I didn't realize this has a sharpener on the end until other reviewers pointed that out. I'm okay with this but it's not waterproof like what PF claims.

best eyebrow pencil for me!

I love this eyebrow pencil looks so natural people think I am lying when I tell them I use a brow pencil. Color is so natural and stays all day it goes on easy. Love how it comes with an integrated sharpener and a brush not to mention it is very inexpensive finally I found the perfect brow pencil that looks natural I hope they never discontinue it because I plan to buy a lot more

Great product for the price

These pencils are a great bargain. They go on smoothly; no pulling, dragging, or skipping and the end result is natural looking. The product has great staying power but still washes off easily at the end of the day. There is a fairly limited color selection though.