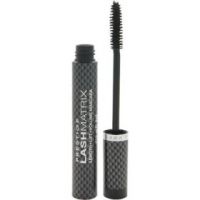 Will not repurchase this.

I LOVE Prestige My Biggest Lashes mascara, and Prestige My Blackest Lashes mascara, and assumed that Lash Matrix Waterproof would be just as awesome, but with the added bonus of being waterproof. No, it's not. Not at all. PROS: SImple packaging, nice brush, pigmented formula. Decently waterproof. Decent price. CONS: Irritating to my eyes. Formula is REALLY clumpy, even the day after I opened a new tube! Ridiculous. I'll stick with the other formulas from Prestige.

born dried out

this mascara is too dry. it went on thick, and clumpy and then proceeded to flake and crumble all day. and then, the leftovers were hard to remove. i really do like prestige as a brand, but this was a miss. dont waste your time!

Great Masacra From a Mascara Snob

Love this Mascara.. I have very tiny lashes.. When I applied this I was amazed at how my lashes were volumized with 3 coats. Most Mascara's on me smudge and dot my eyelids with splash from the brush. Not this one. It's perfectly dry. Has Never Flaked. I hope this around for a long time to come.
Back
to top