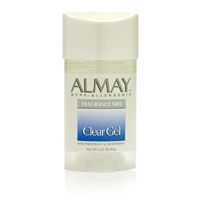 just ok

This deodorant was just ok. It went on nice and smooth, no clumping. If I sweated more than usual I did stink a little.

The only one I can use lately!

I've recently started breaking out in a rash with pretty much every deodorant I've tried. This one doesn't, and it works, so I love it! Even the crystal rock that's supposed to work for everyone makes me itch and break out in a rash within about 2 hours of applying it. So, I'd say this is a great hypo-allergenic deodorant, and it works!

Almay - Hypoallergenic - Clear Gel - Fragrance Free - Anti-Persperant & Deoderant

I didn't buy this because I have sensiive skin or anything, I bought it for the amount of active ingredient in it! Most deoderant only have 20% of that Aluminum Antipersperant active ingredient stuff, well this one has 25%! I am the kind of person who breaks out in a sweat in the freezing cold. I don't know how and why because I won't even be nervous or anything, but I sweat and smell there real e...read moreasy. Also, being a woman of color, I don't like powder deoderants, and I've tried Secret's gel, and it doesn't come on clear, it will leave like white hard crisp residue. This deoderant is the only one that works for me, I get it in the fragrance free or in the Aloe scent, either one works, and they come on clear!
Back
to top