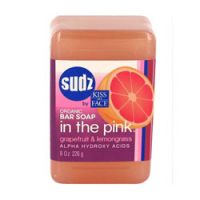 Kiss My Face Organic Sudz Bar Soaps -
As low as
Nice organic soaps

These are pretty great organic soap bars. I've tried In the Pink and Rough Seas. In the Pink has an awesome scent and is a great all over bar soap. Rough Seas is a nice exfoliating bar. Both last a good while and have a nice lather as well as being nicely scented. They are both a bit pricey, but compared to Kiss My Faces Big Organic Soap Bars, I think these are a better deal for the quality of soap.

Smells great

although a bit expensive for a bar of soap. Kinda drying for the face (for sensitive skin at least) but really cleanses well. For the body? you'll get that baby soft clean skin

I'm in love

I love this product it's great in the shower gel as well. Cleans great and smells wonderful.
Back
to top