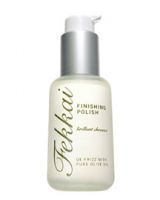 love it

shiny but not greasy

Shiny hair

This product does what it claims. It has a great scent, and is very moisturizing. Don't use too much; it's really heavy and can leave hair oily if applied incorrectly. I think it's a bit expensive...but I haven't found a drugstore one that is comparable.

Silky Radiance

I have naturally curly hair, but I striaghten it often. I love Frederic Feddai's Finishing Polish, because it gets rid of any frizzyness and smooths flyaways. It's got pure olive oil in it and it does wonders for dry, damaged hair. I use it on my towel dried hair before I blow dry, and I always have soft, smooth, shiny hair. I also use it during the day to smooth any hairs that are out of place. The smell is wonderful too.
Back
to top