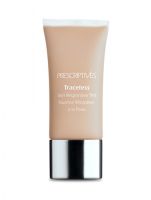 Not a fan of this

I'm not sure I understand why they made this - it's nearly invisible. I'm a huge fan of unmakeup, which I find to be super sheer but still covers a multitude of sins. This is thinner than any tinted moisturizer I've ever seen. Maybe it's for people who have perfect skin and don't need foundation, but feel like wearing it anyway??? I tried using this in conjunction with concealer... I have tried it...read more before concealer, I have tried it after concealer... it doesn't make a difference. In my opinion this is water with some color. Sorry, but it did/does nothing for me.

Fabulous!

This is the only foundation I have used for almost ten years. No pefect match needed because the product actually adjusts to your skin color, which eliminates mistakes and frustration. I hated foundation until this product. It is absolutely weightless, nontransferable and suitable for oily skin. It is truly unique and worth every penny.

My go to

I do not like putting heavy foundations on my face, nor do I like using moisturizers because of how they feel on my face! I fool my face into getting the moisture it needs with this and get the added bonus of some coverage. Doesn't make me breakout either. Great product.