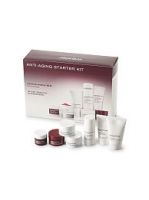 Very irritating, surprisingly

I wanted to try this because I had read so many good reviews about it. Well, all it took was two days' use and my skin was red, irritated, and dry. I had to return it, and only then did I learn that she also makes a starter kit for sensitive skin, which is only available online. I have no idea why, it's like they want to keep it a secret or something? All told, I use another (drugstore) brand, rec...read moreommended by my derm, and I feel and look much better. Hopefully this won't cause the same reaction for everyone.

LOVE, LOVE, LOVE

I have tried, and tried, and tried different kinds of skin care sets. From super expensive (over $200 for an eye cream, moisturizer, wash from Chanel) to department store sets. When I saw this for $39 I thought it couldn't hurt to give it a try. I am simply in love with this! My undereye lines are almost invisible, my skin is radiant. Give it a try!!

Love it!

I've been using this system for the past few years. I don't really know how I started using this but it has been at least 3 years. The serum is the product that I mostly go for. But buying the kit is a whole lot cheaper than buying the serum by itself. When ever I use the serum I notice that my skin starts healing and the tone evens out. I also start to develop this sort of "glow" about me. The ot...read moreher products are extremely gentle and comforting. The Cleanser cleans away dirt and makeup without drying or clogging pores. The Dermabrasion leaves your skin feeling silky smooth and the eye cream leaves the skin looking hydrated and dewy. I'm truly thankful for this product!!!
Back
to top