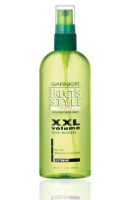 ughhh.. hairspray?!?!

I bought two bottles on a great sale after reading the great reviews. I have very thin, fine hair that falls flat event after a professional salon blowout. I tried this out, on wet hair, on the roots, before blow drying. EW. i might as well have sprayed my hair with hairspray. My roots were hard and sticky, like i had cotton candy in my hair. Morevoer, I didnt notice a change in volume!!! I dotn knwo how im gunna get through two bottles. big mistake

Really like this!

I've been using this product for a couple months now and i'm really enjoying it. I have medium-thick hair that's naturally curly, so i don't really need too much extra volume, but i saw it for like $3 and figured i give it a try anyway. On those days when my hair just doesn't want to work with me and give me any volume, i turn to this product and the problem's solved! I was really impressed with the lift it gave my hair without managing to add alot of build up in my hair

Great for Dry Hair Too!

I absolutely love this root lifter! I take showers at night so I usually put my mouse in before I blow dry my hair (also at night) this is great for when I just want to vamp it up some more in the morning or later on in the day. Plus, with my CVS card it cost me only $3. Win.
Back
to top