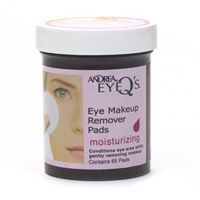 Greasy

I used these make up remover pads at a friends house and found that they are very greasy. I already have an oily zone and don't want to add to it. She likes them because she has dry skin. I wouldn't purchase them for myself.

works

I find a lot of these products work so this one is high up on my list because 1. it does work and 2. its a great price

I quickly picked these up at Sally's Beauty Supply...

...not really thinking, the only thought in my mind was that I needed Eye Makeup Remover Pads. The clerk told me she uses those, and she said she uses a tissue to blot the excess oil off of her face before she sleeps. I sort of looked at her funny- Makeup remover pads never leave *that* much residue on my skin. But when I got home later and took one out, I knew what she meant. They were saturated ...read morein oil. Now, this isn't necessarily a bad thing. Eye lashes need to be "conditioned", just like your hair. These pads are soaked in healthy safflower and soybean oil. I was all for the conditioning- I rub Vaseline on my eyes at night to have less lashes fall out during the daytime. Now, that step is eliminated from my nightly routine. Although, I do have to blot to get rid of some excess oil, and to sometimes to get some traces of eye liner. I think I'll keep looking for a nice quality eye makeup remover that moisturizes well that removes my makeup a bit more effectively.
Back
to top