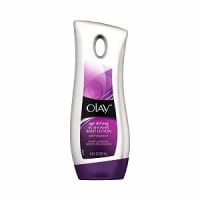 excellent!

refreshing, great feel and terrific scent!

The lazy girls secret to soft skin!

I don't know about you, but I hate putting lotion on after my shower, in the winter especially since I get so cold out of the shower. So, yah, I'm lazy. But even a lazy girl like me can have soft skin. Olay's shower lotions are a perfect solution! I just rub this stuff on while I'm in the shower rinse off and bam! I'm clean and moisturized right out of the shower. This is a great product! Actually all the shower lotions are great, this is just one of them!

LOVE IT!!

I absolutely LOVE this shower lotion. It makes my skin feel so soft. I work 40+ hours per week and have a family. So I'm unable to spend a lot of time on myself in the mornings. My skin is dry and needs lotion everyday. I don't have to put lotion on after my shower. I already did using the Olay shower lotion!
Back
to top