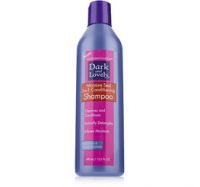 Soft Sheen Carson Dark & Lovely Hair Care Conditioning Shampoo
As low as
Didn't work well

It felt okay during the wash (easy comb out), but left my hair dry afterward. It also coated my hair so that after the blow dry it was stiff. Maybe my hair is too fine, I don't know, but this just didn't do it.

Pampers Curly Hair!

I know this was created for African American hair but I am a pale skinned, blue eyed, woman with incredibly curly dark hair. 'Must be from my Spanish roots. Anyway this shampoo is the bomb. I can wash my hair and actually run a comb through it in the shower and remove tangles BEFORE even rinsing or conditioning. It is actually good enough to not apply a conditioner. I can often skip that step...read more and just apply my styling mousse and shake it out and go. I repeatedly buy this product when I find it. It pampers your curly hair.

MY FAVORITE SHAMPOO!!!!!

omg, i freakin love this shampoo... it works well for those who are african american. its a 3in1 hair care product. it cleans, detangles, and adds shine in just one wash!!! very convient. with this, i wouldnt have to use any extra conditioners.
Back
to top