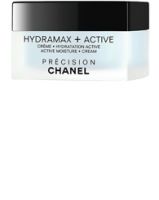 Editor's Rating & Review
The higher the thread count, the softer the sheets, right? Well think of this splurge-worthy moisturizer the same way. It's not cheap, but it's luxurious and pampering. It's pale blue and has a divine texture that feels like a cream/gel combo. It adds intense moisture to dry skin using glycerin and sodium hyaluronate, and it contains yeast extract that helps form skin lipids that dry skin types lack. But honestly, it just feels so good on.
Reviewed by Kristen on 10/04/2007

How we review products
pricey but good

I have a hard time spending so much on cream but this one makes my face feel so smooth and hydrated that I have no choice but to buy it!

pretty good

does what its says!

great for dry skin

I was definitely worried about using a moisturizer with oil in it (I know, how naive), but this cream has worked wonders for my dry, sensitive skin. I generally use it with the serum (also by Chanel), but I think I'm going to start regularly using it alone since it is so wonderful (and the serum is pricey/doesn't last long). My dry patches are gone, my redness has gone down, and I have not had a...read moreny breakouts or bad reactions whatsoever. This is a bit pricey, but it is definitely worth it. It doesn't take much cream to cover your face, so the jar seriously lasts forever! And the icing on the cake: it smells wonderful!
Back
to top