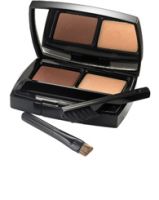 Editor's Rating & Review
Compared to the once-available Chanel Le Sourcil Brow-Perfecting Compact, this seems like a let-down; three mixable shades have become two and miniature tweezers have been nixed. But closer evaluation shows change can be positive: the mirrored compact is smaller (making transport easier), the wax-textured colors are still creamy (the better to set brows with) and both the angled applicator brush and brow-taming brush are still included. Colors (brown or blond) last all day without smudging under normal conditions.
Reviewed by Charli on 12/17/2007

How we review products
Creamy and Precise Color

I really like this compact for travel because it is small and the color goes on well and precise on the eye. The compact contains a beige and brown that are creamy colors and last all day. The brush is angled for a perfect blending and application.

Too dark

I really thought this would be great but, it made my brows too fake looking. I like the natural look. It was too dark for me. And very pricey. I expect more from Chanel products.

great product

this product is great, its like putting eye shadow on your brows, the only drawback that I can even think of is the price. It looks natural when it is on and its very easy to use.