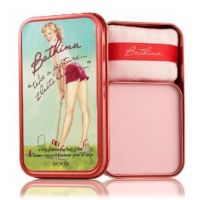 Editor's Rating & Review
Benefit Bathina Body So Fine is a bit odd, like a lip balm for your body -- it leaves a smooth finish but sits on top of skin instead of sinking in. Fans of florals will love the white flower smell. Fans of fuzz-free skin will not love the black puff that accompanies the balm, as it leaves fuzzies in the product and on your skin. (Better to use your hands.) Since it takes about 10 minutes to apply to your body, it's also not for the time-crunched.
Reviewed by Sarah on 12/18/2007

How we review products
Benefit Bathina Body So Fine

I love the fragrance and I feel that my skin has such a nice sheen when I use this. I also like the little bit of moisturizing my legs get when I use this. I don't like hose, so I feel like this really enhances my legs when I am in a skirt or shorts in the summer. The fragrace is really long lasting and my husband likes it too, added bonus. I love the cute packaging too, it doesn't take up a whole lot of room in my bathrrom. Would I buy this again? You bet I will!

Soft but greasy

First of all, this container is huge. There is a lot of product inside. The balm is very soft and smooth, smells great, but feels oily and doesn't absorb into the skin quickly like lotions, so it takes getting used to. It does give a nice healthy sheen to my legs, but I don't really want to use this on other parts of my body because it sits on your skin and rubs onto your clothes.

Love the scent!

I love the way this smells. I also have Benefit's perfume Maybe Baby which has a similar scent. I love the silky feeling of the body balm. It doesn't soak in like an oily lotion. I like to use it the day after I shave for a clean fresh smelling me!
Back
to top