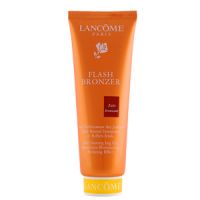 Guest's Rating & Review
Though this tanner is meant for the legs, many beauty editors have raved about it for use anywhere -- on your body and even your face. The shimmery gel is tinted, making application simple and stress-free. But if you're wary of getting too dark, lighten the effect of the tanner by mixing in a little moisturizer for use on your face, knees, elbows and hands. The overall outcome is a totally "natural," streak- and stink-free, chestnut-colored glow that lasts a week.
Reviewed by special guest on 04/30/2008
Lily Mohammady

http://www.beautymaverick.typepad.com
Instant and Lasting Tan

The tinted gel intantly and evenly tans my legs upon application. It has a little shimmer but not very obvious. The sweet floral fragrance is quite strong and does linger. Not my favorite scent but I can tolerate it. In a few hours I had a slightly darker permanent (a few days) tan. The tan lasted about 4 days for me. With one application the tan is subtle, yet not too pale nor too dark. It...read more fades gradually. This was very easy to use. I have very pale skin and the tint helps me to apply evenly every time. It does feel a little sticky until I shower.

My favorite self tanner!

I have been used self tanners for over 9 years, needless to say I've tried a lot of them! Lancome flash bronzer is by far the best! I love the whole line. The gel goes on very even. The color is a true tan color, not orange! And it fades off evenly! I highly recommend this product!

i love it!

i got this product on sale for around $15! it dries within 20 minutes and your legs look really evenly tan, with a nice golden shimmer! This tan lasted a whole week, but i didn't scrub my legs while bathing .Unline cheaper versions, the tan doesn't spot after washing-it comes of gradually so there are no dark spots. I love this product, it really gives my legs a nice even tan with the added shimmer!
Back
to top