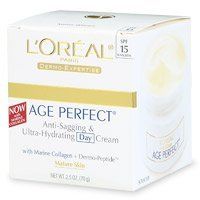 Hmm..

This is more of a night cream. It is greasy but moisturizing. I would recommend this for people who have dry skin. The fragrance isn't that bad. It's a bit overpowering but it will subside after a while. It is in a glass jar and kind of heavy so traveling with this is probably not a good idea. One thing I really don't like about this is having to stick your finger in the jar to get the product out. But other than that, I will repurchase because it does a good job hydrating the skin.

Age Imperfect is more like it

I hated this stuff. Not only did I find it greasy, the fragrance was too strong. Worst of all, it made my eyes sting and burn, even though I never actually got it into my eyes! Just having it on my face, or even opening the jar, irritated my eyes. With all the fancy stuff, fancy name, and price...I expected better. This scared me from ever buying anything in the "Age Perfect" line again.

Skin Feels Dry again in 3 hours

I have very dry skin, and this moisturizer gives up the ghost before lunch. Not impressed.
Back
to top