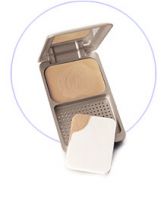 Uh-Oh, Did I Do That?

While this didn't impress in terms of lasting or keeping still, it creates a pretty flawless appearance. However, don't plan on being able to snuggle next to your man with this as it comes off and smears on any surface! I remember the day I hugged a friend wearing this and I felt totally embarassed and horrible for leaving a tint of makeup on his white t-shirt. Also, if you have oily skin, this...read more will make you shine so be prepared to have a blotting powder or a translucent powder in hand ready just in case of need. I couldn't find the perfect color match, I was able to buy two closest to my shade but one was too tan and the other was too pink so I couldn't have it either way. If you can find your perfect shade and you have dry skin, this might be a good complexion fix. But regardless if you're a product junkie or sincerely looking for a good foundation, I'd exercise plenty of caution before purchasing this.

The coverage was cakey.

I used this years ago when I had acne and I thought the coverage caked on my face. It wasn't a horrible make up, I think you get what you pay for. I would not recommend this.

great coverage

When it got really hot I could not use my liquid foundation and i had to come up with something else. So I tried this one. It is easy to use and sticks to my skin nicely. It also seem to even out my skin tone for some reason. However the color choices are limited before I used softest gold and now I am stuck with blushing Ivory. It is oke but I really wish they would give out more colors. That's why I gave it an 8 rating, otherwise I would have given it a ten.
Back
to top