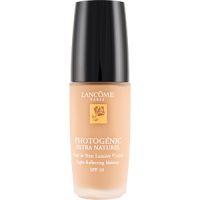 Lancome photogenic makeup

It's wonderful except packaging

well done

As a former Elizabeth Arden foundation fan who then tried to love Laura Mercier's foundation but couldn't- I find the Lancome Photogenic line refreshingly light & just right. Seems to have medium coverage & blend in easily- to me it is unobtrusive, non-cakey & a nice fluid texture with a good consistency that spreads just right & is slightly clingy, but not cakey. Love the SPF &amp...read more; the line smoothing properties. I don't know what more it could do, if that makes sense. Flattering real world colors also.

Brightens skin but doesn't help with shine

I feel this foundtation brightens my skin and gives me a "glow", and looks great in pictures (hence, the name). However, it does not give a matte appearance and sometimes my face can appear shiny. I'd say it provides medium coverage.